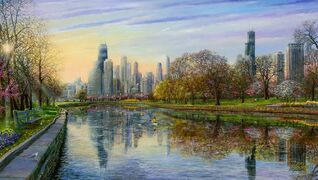 Como el nombre lo dice, es la primera ciudad de Toonix y es donde habita la mayor población de este mundo, cuya ciudad está a la par del Golden Forest y el Monte Colosus. Lo que anteriormente era un gran edificio (el anteriormente llamado edificio patricio, el cual era visible desde todo toonix), ahora, después de terminar las grandes guerras Luz/Sombra y contra Los Invoker, ha ido creciendo hasta ser la primera ciudad de Toonix, objetivo deseado por varios clanes antagonistas o de visiones destructivas o controladoras para este mundo.
A pesar de que exista esta ciudad, el edificio anteriormente denominado Edificio Patricio, sigue siendo el edificio más grande, espacioso y alto de todo toonix el cual actualmente se llama El Gran Edificio Central.
Podrá ser este el edificio más grande de todo toonix hecho por simples habitantes o mientras se descubran nuevas tierras, se elaborarán edificios más grandes que éste?
Ad blocker interference detected!
Wikia is a free-to-use site that makes money from advertising. We have a modified experience for viewers using ad blockers

Wikia is not accessible if you've made further modifications. Remove the custom ad blocker rule(s) and the page will load as expected.